Yes, Door County offers five amazing state parks, but there are also several less-known, but no less beautiful parks off the beaten path. Our staff visits these places as often as possible as they boast incredible views, hiking, snowshoeing, nature and history.
The best part? You'll often find that these rarest and quietest Door County parks can be all yours, as the crowds rarely find them!
Three Lesser-known Door County Parks
1) Toft Point – Baileys Harbor
Toft Point State Natural Area, a 700-acre preserve notable for its remnant boreal forest of balsam fir and white spruce as well as its shoreline.
The natural area is bordered on the north by Moonlight Bay, and on the south by Baileys Harbor. There are more than two miles of Lake Michigan shoreline, with areas of wave-cut dolomite cliffs. Stretches of limestone cobble beach, mixed with marly soil, are exposed during periods of low lake levels.
The preserve is now managed by the University of Wisconsin – Green Bay and is named after the Toft family who settled in this area in the 1870s in Door County, Wisconsin. Emma Toft was the daughter of Thomas Toft and after the death of her father she opened up a small resort on the land. This resort consisted of 5 small log cabins which still remain intact as they were in the early 1900s.
It really is a magical place as the cedar trees hide the light because of the height of their canopy and you begin to hear the waves on the shoreline long before you can see the water.
The cabins that line the shoreline all display a name plate of one of the Toft children.
Hiking Review: This is a nice hike with no elevation changes. The hike gives you a good mix of woodsy terrain and lake side terrain. The trail becomes essentially the lakeshore for half of the trip. You might find yourselves hopping from rock to rock in several marshy areas. Expect to get wet/slimy shoes during the hike. The near bouldering aspect of the hike is fun and unexpected.
Driving directions
From the intersection of State Highway 57 and Ridges Road on the north end of Baileys Harbor, go east on Ridges Road about 1.4 miles, then north on an access lane at fire number 8380 to a parking area. Or, continue southeast on Ridges Road 1.1 miles, then east on Point Drive 1.2 miles to its end.
2) Door Bluff Headlands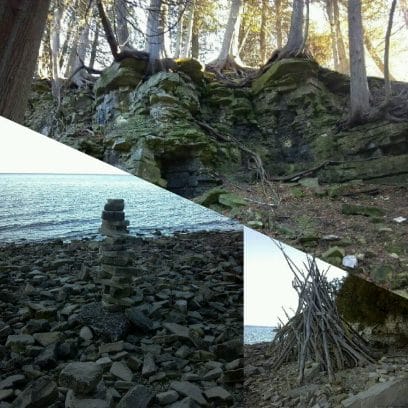 Door County's rarest and quietest park is Door Bluff Headlands Park near Gills Rock.
Acquired in 1945, this park is unique in its formation and history. It is also unique in its lack of development as a public park – a deliberate policy due to its variety of trees, ground vegetation and its topography. Historically it is said to be the place the Washington Island Native Americans (Iroquois) fought the mainland Native Americans (Potawatomi).
The road to the park is the only developed section of the park, although visitors and animals have created their own nature trails. The bluffs rise up from over 6,000 feet of shoreline and give visitors views to the north of Death's Door and the passage to the Upper Peninsula of Michigan. The park has 156 acres.
Driving directions
Door Bluff Headlands Park can be found by taking Garrett Bay Road to 12900 Door Bluff Park Road. There is excellent bird watching as one winds along the road to the bluffs. There are no facilities.
3) Ellison Bluff County Park

This 174-acre park offers one of the most beautiful blufftop views in the county.
At Ellison Bluff County Park, a wooden observation deck and walkway provides a safe but spectacular bird's eye view of the lake from atop the 100-foot limestone bluffs and is an excellent place to view spectacular sunsets. An enclosed catwalk extends out over the bluff where you can observe Rough-winged Swallows hunting for insects. Also, watch for American Redstarts, Great-crested Flycatchers and Broad-winged Hawks.
Driving directions
From Ellison Bay, travel south one mile on Hwy 42 to Porcupine Bay Road. Turn west and follow signs to the park.