Egg Harbor is one of the best small towns in America, but don't take our word for it.
Check out what Wisconsin Trails had to say when they named our hamlet the Best Small Town in Wisconsin, or Budget Travel, which called us one of the Coolest Small Towns in America.
It's little wonder it has earned such acclaim. Egg Harbor features one of the county's best beaches just a mile walk from the Bay Point Inn.
In 2010 we opened a new marina in the center of the village, and in recent years the Peg Egan Performing Arts Center has earned a reputation for putting on some of the best free concerts you'll find anywhere.
Grab a bottle of wine, some snacks, and walk over on summer Sunday evenings to serenade the sunset.
Egg Harbor is also home to the county's best grocery store, Main Street Market, which boasts an incredible wine and largest craft beer selection in Northern Door County. You'll find great cheeses and meats at the deli counter too.
The Bars of Egg Harbor
If you're looking for a great place to wet your whistle we've got several options:
Mojo Rosa's, a Mexican restaurant and bar in one of the village's oldest buildings.
Shipwrecked, Door County's first micro-brewery and the (alleged) hangout of Al Capone back in the day.
Casey's has long been THE local watering hole.
Door County Winery Tours
Want wine? You're in luck!
Stone's Throw Winery is just down the road, offering tastings daily.
Simon Creek is about a 15-minute drive or a beautiful bike ride away, but it's worth it. The property, nestled along the creek and hidden in farmland, is simply gorgeous.
And what's wine without cheese? Egg Harbor boasts two specialty cheese shops, Wisconsin Cheese Masters on the south edge of town and Door Artisan Cheese Company on the north edge. If you want more specialty foods stop at Greens 'N Grains, where you'll find a wide array of organic foods and fair-trade options.
Egg Harbor Golfing
If golf is your thing, you won't find a better town for golfing in Wisconsin. Of course, there's the acclaimed Horseshoe Bay Golf Club (if you can sneak in). The spectacular Orchards is just down the road from us, as is the more pedestrian-friendly Stonehedge Golf Course.
For the Family
If you've got the little ones with you you're in luck. On the edge of town you'll find the Egg Harbor Fun Park, complete with an arcade, zip line, go-carts, skee-ball, and tons of games.
On the eastern edge of town, in what we call Peninsula Center, you'll find PC Junction, a must-stop for anyone with kids! Seriously, if you go once, it will become a family tradition (and your kids will beg you to go back).
When the sweet tooth gets you, swing on down to Double Delights for gelato and candy, or Grumpy's up the road.
History Buffs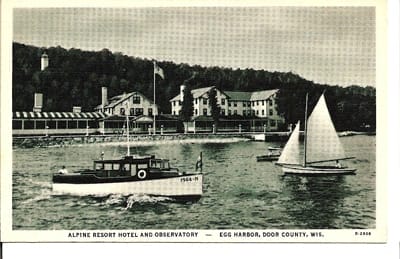 If you like history, the Bay Point Inn is the right choice. Innkeeper Myles Dannhausen is a founding member of the Egg Harbor Historical Society and can give you plenty of stories about the village's colorful past.
He can also point you in the right direction to check it out for yourself. Some places of note include:
The Alpine Resort, the first large-scale resort on the peninsula that still stands very much as it did nearly a century ago.
Horseshoe Bay Farms. Once the largest dairy farm in the state, the barns of this farm still stand proud near Murphy Park.
Eames House and Cupola House. Both of these buildings are among the oldest in the village just a short walk from BayPoint.
Learn more from the Egg Harbor Historical Society's great resource on the village's historic places!
A Step Away From Normal
What don't we have? Well, you won't find any traffic lights, and you won't find any chain restaurants. We're all local here, and all authentic Door County.