You've seen Door County as a visitor, but have you experienced it the way locals do? There's no better time than the winter to get the full effect.
You just might find that Door County is even better the local way. Here are our tips to get a taste of the local life.
1) Order an old fashioned, Wisconsin style. Your bartender will know what you mean.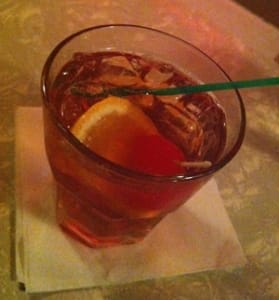 2) Grab a cup of coffee at Blue Horse Bistro in Fish Creek. Door County doesn't have a Starbucks – and that's a good thing. Blue Horse in Fish Creek has been the spot for locals and tourists alike. Lucky for us, owners Erik and Corrina stick it out and keep the coffee brewing all winter long.
If you want the local buzz and a local buzz to start your day, this is your spot. And the sandwiches are fantastic.
3) Visit Jorn's Sugar Bush and stay for a chat with Donna. Ring the bell, she'll be with you soon enough, then she can tell you more about Egg Harbor then you ever thought you wanted to know.
4) Roll at the Bowl. You keep score! If you're used to suburban bowling, the Sister Bay Bowl will be the kind of experience that takes you back in time. There are no computers in this alley, just pencils and score sheets for you to fill in. But don't worry, the barkeeps can teach you how to do it.
5) Take a ferry ride to Washington Island, cutting through the ice, and do a shot of bitters at Nelson's Hall to earn your Bitters Club card.
6) Sip the local brew! Door County Brewing Co.'s taproom always has great bands. Be sure to try the Pastoral, it's our favorite of the McMahon family brews.
7) Get on some skis. We take them for granted, but the cross country ski trails at Peninsula State Park, Whitefish Dunes, and Newport are all amazing after a fresh snowfall, thanks to some dedicated local groomers. Bring your skis or rent them and experience another side of our amazing parks!
8) Ring the bell at JJ's La Puerta. If you don't know what that means, we can't tell you, but we'll give you a hint. It will involve tequila, cinnamon, and orange slices, and you're advised to do it when the bar is less sparsely populated.
9) Make a chili run. Sounds like a bad idea doesn't it? Well, it is. A group of hearty folks started this in 2006, piling into a van on Super Bowl Sunday to tour Northern Door and sample a bowl of chili and a beer at every restaurant that was open.
Fortunately for them, there were only six chili-serving locales open that day. Unfortunately, that was still six bowls of chili for a bunch of people piled into one van.
You can make your own run any day (we recommend keeping it short!). Czarnuska Soup Bar in Ephraim has to be on your list, as does the Coyote Roadhouse. If you're a fan of the extra spicy, meat-dominated variety, Bayside is your spot, while the Northern Grill puts a white bean twist on it.
10) Strike up conversation. Don't be afraid to ask your server, bartender, or clerk a few questions about life up here. Now, do this in winter and you might get a terse response or a roll of the eyes from a swamped server, but come the slow season, we tend to ramble rather freely with our info and stories.