We at Bay Point are excited about the future of Egg Harbor! The next time you visit you will see new buildings blossoming, Egg Harbor is getting a beautiful facelift.
Donald and Carol Kress Pavilion
A place to read, create and celebrate the Donald and Carol Kress Pavilion is located in the heart of Egg Harbor and home to the Village Library and Community Center.  Features a second floor Great Hall event space with wrap-around porches that offer sweeping views of the bay and surrounding orchards. In addition to the modern, customizable Great Hall space, visitors have access to two meeting spaces, a lounge and living room with a fireplace.
The Kress Pavilion features current audio-visual equipment, flat screen T.V.s, and teleconferencing capabilities throughout.  On the first floor is a Makers Space, offering a space for tech and hands on programming. Residents and tourists are welcome to host a small gathering, private meeting, and celebration or simply enjoy the pavilion as a library patron.
Shipwrecked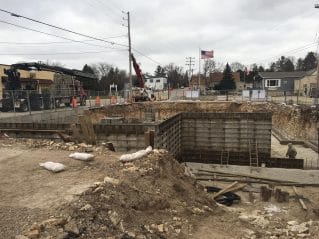 Many of you know of the fire that took Shipwrecked the Summer of 2017, but the new building is well under way and making great progress. Every day we drive by and the workers are working hard to get this building ready.
Hatch Distillery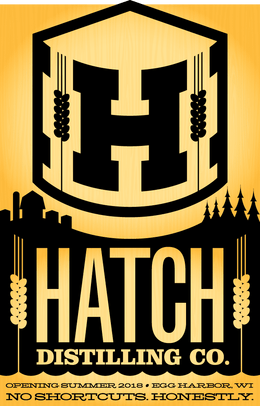 Chris Roedl is excited to bring the "grain to glass" concept to Egg Harbor, saying he believes the community is ready to have a place like this near its downtown to draw more people. Hatch Distilling Company is shooting for a summer 2018 opening date.
Egg Harbor Historical Society Bookmobile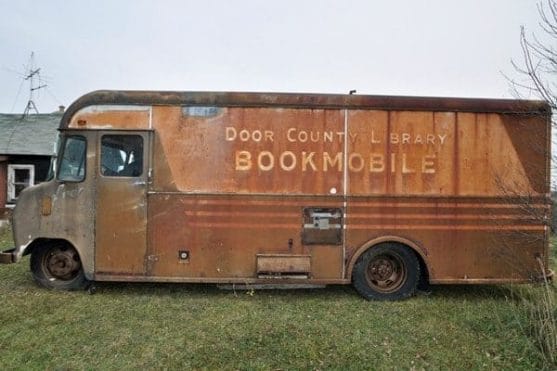 The Door County Bookmobile was a door to another world for Door County children and adults for generations. Now the Egg Harbor Historical Society (EHHS) is rescuing the bookmobile to breathe new life into this piece of local history as a vessel to help tell our community's stories.
Since being retired in 1989, the bookmobile has sat on the property of local historian John Enigl, gathering dust and rust.
The historical society bought the Bookmobile, along with a library of historical books, documents, and recorded interviews with notable figures, from Mr. Enigl in 2015. Now the Bookmobile is currently being restored to give it a second life bringing history to people throughout Door County.