Winter is a great time to enjoy Door County's romantic side. Here are some of our best tips for a romantic Door County getaway.
1. Sample wine tastings on the Door County Wine Trail.
Door County's wineries offer the perfect way to learn about the peninsula's wine scene and escape the cold.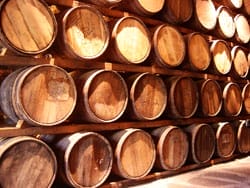 2. Go horseback riding at Kurtz Corral.
Take in the area's rural scenery on horseback on the 500 acres of Kurtz Corral in Jacksonport. Enjoy a cup of cider around the fireplace after your ride, or better yet, keep an eye out for one of their candlelit rides.
3. Book a couples massage.
Take your pick of several relaxing spas and get a relaxing experience for just the two of you.
4. Enjoy a romantic dinner at one of Door County's best restaurants.
For a special dinner you can't beat the fine dining options at Chives in Baileys Harbor, Wickman House in Ellison Bay, or the English Inn or White Gull Inn in Fish Creek.
5. Hike at one of the Peninsula's Rarest and Quietest parks.
Yes, Door County offers five amazing state parks, but there are also several less-known, but no less beautiful parks off the beaten path. We visit these places as often as possible as they boast incredible views, hiking, snowshoeing, nature and history.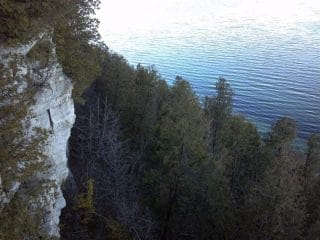 6. Get it all in one package.
Save yourself some time and let us do the planning for you with one of our Winter Wonderland Trolley Packages. Soak in the winter landscape, enjoy a romantic lunch, and learn about the peninsula in a special winter afternoon.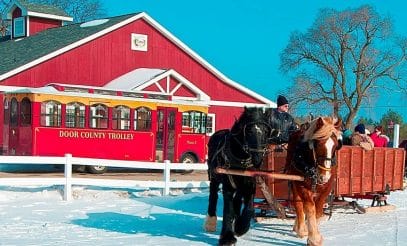 7. Take a horse-drawn sleigh or carriage ride.
Mayberry's Carriage's offer sleigh and carriage rides through picturesque villages or scenic orchards, a great way to soak in the scenery together.
8. Candlelight ski or hike in one of our beautiful state parks.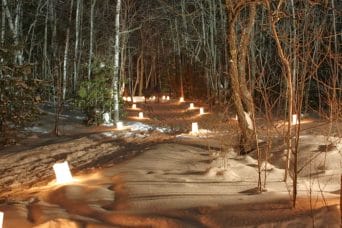 9. Keep it cozy at the Inn.
Indulge in one of our Romantic Packages or add Romantic Additions to your reservation. We'll do the work, you enjoy the view, the fireplace, and the comfort of your villa.