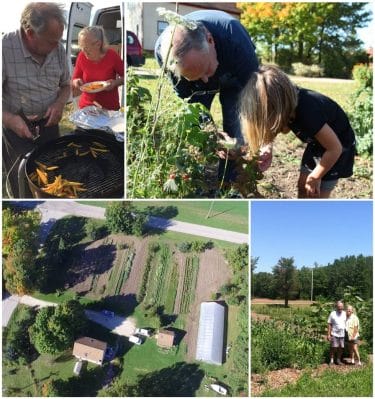 Myles Dannhausen, Innkeeper at Bay Point Inn, began his cooking career at the age of six by baking an Angel Food Cake on a camp stove for a neighbor who owned a fishing cabin down the road.  Later while serving in the Peace Corps Myles discovered the spicy tastes of West African food.  Today international cuisines often offer variations on traditional West African dishes.  When Myles returned from the Peace Corps in 1966 few had heard of Groundnut Stew, Jollof rice, Akara or any other the other tasty morsels that Myles brought back from Africa. Groundnut stew a combination of ground peanuts, chicken, vegetables and spices.  Jollof Rice is a traditional West African staple.  Akara is a fritter made with black eyed peas.
A family friend knew the Chicago Tribune Food editor, Joanne Will, and told her that Myles had something interesting to offer Tribune readers.  The result was a full page spread in the Chicago Tribune that was soon followed up by articles in the popular Sunday edition of the Tribune Magazine.
Over the years Myles continued his forays into cooking with a Pizza restaurant, a Bar Grill and a wholesale Bakery.  When he landed at the Bay Point Inn he resurrected the Groundnut stew recipe and now includes it's in Bay Point's popular Sunset Supper offerings.
Peanut Stew (Eight Servings)
1 Stewing chicken, cut in pieces
1 Pound round steak, cut in cubes
2 Small onions, chopped
4 Cups water
½ Cup tomato puree
½ Cup peanut butter
Salt, pepper
Cayenne pepper
Oregano
Place cut up chicken, beef cubes, onion, and peppers in large pot with lid. Add water and 1 teaspoon salt. Cover pan and simmer until meat and chicken are tender. Stir in tomato puree and peanut butter; simmer for 20 minutes