Outstanding in the Field, the pioneering farm dinner series that has toured the country for 15 years, added Door County to its itinerary Aug. 3.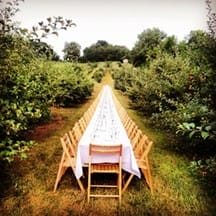 Our Innkeeper's son, Myles Dannhausen Jr., wrote about this latest step in the peninsula's climb up the culinary ladder for our local paper – the Peninsula Pulse.
Outstanding in the Field took their show to Waseda Farms in Baileys Harbor, a beautiful cattle ranch where they raise grass-fed beef in the Temple Grandin style.
For 15 years Denevan has paired the nation's most acclaimed chefs with the farms where they source their food for almost 700 dinners in the field, served at a single communal table.
Learn more about the event by reading Dannhausen's article here>>