As the Door County Half Marathon nears, we're grateful for this guest post from Dan Lyne of Middle Age Marathoner fame. The author of multiple books on running and injury prevention, Lyne shares his advice for choosing accommodations the night before your big race!
If you're traveling away from home and need to spend the night in a Door County hotel before your big event, how do you get the best possible accommodations to help ensure race day success?
The hotel at which you stay, can greatly affect your preparations the night before, the quality of your sleep and even your morning of the race activities. All of these contribute to your outcome almost as much as the training runs you completed the last 12 – 20 weeks. In this article, I will outline what successful runners do the night before and morning of a race.
When I'm competing in an out of town race, I want to look for a "runner friendly" hotel like the Bay Point Inn. My goal is to avoid as much pre-race nervousness as possible, so I need a hotel that can accommodate my needs. Other key considerations include:
1) Does the hotel have its own restaurant or is it close to restaurants (preferably Italian or any establishment that offers healthy carbs for my night before pre-race meal).
2) If the hotel isn't near the start of the race, do they offer a shuttle which can get me there in plenty of time before the race begins (this may mean a 6 am or earlier departure). Also will they be able to get me back from the finish after the race. Although this isn't a deal breaker, it's always nice if I don't have to drive and worry about parking before the race. Remember, the goal is to avoid distractions.
3) Does the hotel offer breakfast the morning of the race? Even, if the race starts early, can I get some appropriate pre-race food?
4) Does the hotel offer a special deal for runners? Ask for a special discount, runner's "goodie bag" or maybe even a late check out (so you can shower and clean-up after the race). Often, the race website will have links to hotels or travel partners.
5) Is there a hot tub for post-race recuperation? I don't recommend using a hot tub before the race because it can leave you feeling tired. However, after the race, few things feel better than the hot jets of water on tired legs.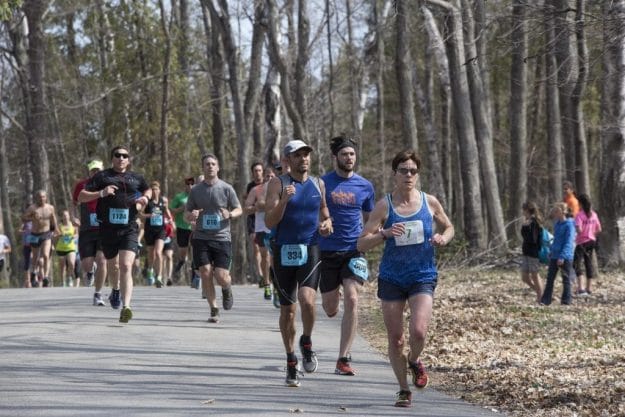 Eat well and get plenty of sleep.
Few things make as big an impact on your performance as diet and rest. The night before the race, you should "carbo load" not "fat load." Eat a meal that's easily digestible, but don't over eat. Consuming carbohydrate-rich foods, such as pasta, potatoes, whole grain bread, fresh fruit and low-fat yogurt. These carbs, not fat or even protein, will fuel you throughout your race.
My favorite pre-race dinner includes pasta with marinara sauce and grilled chicken. I also like to have a dinner salad and some garlic toast. It's important to avoid anything that you have not previously eaten prior to a long run or anything that could possibly upset your stomach. Avoid processed (packaged) carbohydrates and rich foods (deserts) and foods that are high in fat.
Other "Night Before" Race Activities
Get all your gear out and ready. You have enough to worry about the morn¬ing of the race. Get out your race-day out¬fit, pin your number on your shirt and make sure you're not miss¬ing anything. I recommend packing your bag with all your "must-haves" the night before. This includes a clean t-shirt and towel to wipe yourself down after the race.
Make sure you know the transportation details so you can get to the race with plenty of time to spare. The more you do the night before, the less you'll have to stress about in the morning. All you want to do the morning of the race is wake up, get dressed, eat, grab your bag and head to the race as planned.
How to Get a Good Night's Sleep
It's usually difficult to sleep well the night before your race. This is why I recommend getting a good night's sleep two nights before your race (when you shouldn't be nervous about anything). Unfortunately, the beds at most hotels don't seem as comfortable as your own and there's typically a loud air conditioner or heater making too much noise.
If you turn these units off, you'll get too cold or hot, which negatively affects your sleep. To overcome the noise factor, I recommend using ear plugs. However, ensure that you set your alarm loud enough to wake yourself up. Another strategy is to wake up very early the day before the race. That way, you will be tired early on the night before.
If you prepare yourself the night before as discussed above, you should be able to relieve much of the pre-race tension. Although you want to fully hydrate before the race, don't over-do it the evening before or you'll be up going to the bathroom all night. . If your race is really early, you may have to wake up even earlier to eat some breakfast. Consider getting waking 3 hours before the race to have something to eat and drink and then go back to sleep for 30 – 45 minutes.
Race Day
One of the best tips I can provide for success on Race Day is "never do something on race day that you have not practiced in training." This applies to everything on race day from what you eat prior to the race, to the clothes and shoes that you wear. Race day is not the time to try a new racing shirt, shorts or shoes. You want to avoid any unnecessary discomfort. Wearing a new pair of shoes may seem like an obvious "no-no," but this also applies to new shirts and shorts.
Eat breakfast a few hours before the start. Even if you ate 3 hours before and went back to sleep, I recommend a bagel or toast with peanut butter and cut up banana. Greek yogurt is good to help calm your stomach while also providing carbs. Although you have been carbo loading the last few days, it's important to give yourself a little more to draw on during the race. If you're too nervous to eat anything, have a sports drink or try a sports bar.
Remember, it should be all about YOU the morning of the race! Whatever gives you the most peace of mind, the least amount of stress, and the best chance for a good race experience is the right choice.
Enjoy Yourself
Although this is easier said than done for someone running a half or full marathon, try to relax and enjoy yourself. Staying in a nice hotel with a friendly staff can make or break your race experience. You don't have to stay in a 5 star luxury hotel if you can't afford it. Instead, find a quiet hotel, that's not too far from the start or finish of the race where you can relax before and afterwards. Don't forget to have fun before, during and after the race. You trained hard and you deserve it.
Author Bio: Dan Lyne is a long distance runner from Camas, WA. With over 36 years of running experience, he specializes in coaching long distance runners and helping them achieve their half and full marathon goals through his website, middleagemarathoner.com.
Disclaimer: The content in this article is based on the author's personal experience and thorough personal studies. The information provided here is designed to help you make informed decisions about your health. It is not intended as a substitute for any treatment that may have been prescribed by your doctor or physical therapist. All forms of exercise pose some inherent risks. The author advises readers to take full responsibility for their safety and know their limits. There is no guarantee that you will experience the same results & benefits as presented and you accept the risk that the results can differ by individual.