For many guests at Bay Point Inn the stay includes a biking or running trip out to the Innkeeper's one acre garden at his home about a mile east of Bay Point.
Those who taste the home grown fruits and vegetables served up at Bay Point's breakfast buffet or signature Sunset Suppers have to find out where it all comes from. Many purchase garden produce to prepare their own meals in the full kitchens in each villa or stock up to take produce home.
Bay Point's gardens are not limited to edible produce. Thousands of Daffodils line the road side fence in May followed by an equally massive display of Iris, sedum, Lupine, roses that bloom throughout the summer and fall. Shaded areas boast a growing variety of Hostas, ground covers and astilbe.
Myles and his wife Mary have an obsession with gardening that began even before they moved to Door County in the 1970s. Even as he was learning to read Myles attempted to winter over geraniums on his bedroom window sill prompting a complaint from his Mom that they were taking the oxygen out of the room (which is exactly the opposite of what really happens).
Over the years the pair experimented with chickens, goats and goat cheese in addition to an annual garden. Most of their six children participated in 4H or other gardening pursuits and suffered through tons of goat cheese experiments.
Door County Local Food Movement Grows
Today the garden is one of many increasingly sophisticated enterprises throughout the area that produce locally grown products without the use of chemical fertilizers and pesticides. The Innkeeper's garden now houses what is called a high tunnel green house. These structures enable an extended season by protecting plants from Door County's notorious early and late frosts.
This is the second such structure for Myles and Mary – the first was destroyed in a wind storm only months after it was completed. Vegetables now under cultivation in the tunnel will be ready for the farmer's markets Mary attends beginning in June and for the peak season at the Inn.
One recent addition to the garden is our broad selection of heirloom tomatoes which now includes San Marzano, Black krim, Brandywine Red Currant, Matt's Wild Cherry, Opalka and Polish linuisa.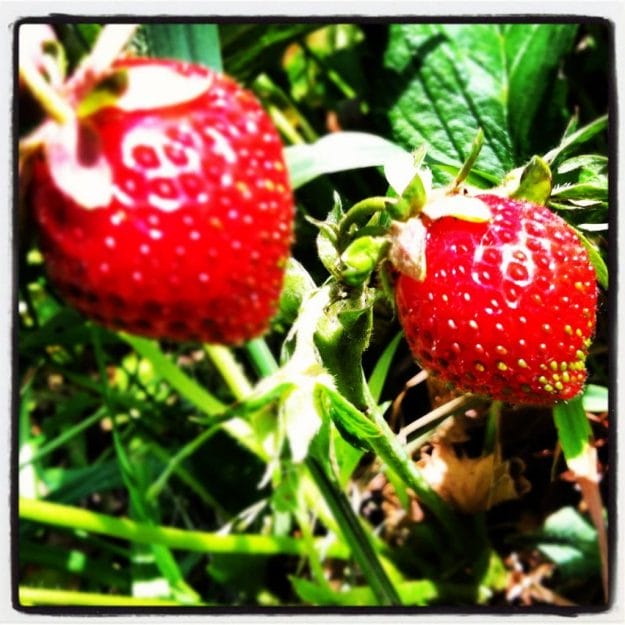 The Innkeeper's garden is more than an individual enterprise. In the fall leaves collected by a groundskeeper are hauled to the edge of the Innkeeper's garden to be used as compost for next year's crops. His garden supplements Bay Point fare with his own specialty products including peaches from 75 year old family trees that happen to like our harsh climate. Another vendor, our electrician, supplies honey, and occasionally some of the tastiest kiwi around.
New relationships that nurture local food production are constantly emerging. Last year a gourmet cheese shop opened and their produce will appear on our cheese trays. An artisan bread maker recently appeared in Egg Harbor and their breads will soon accompany our meals. Yet another neighboring business focuses exclusively on canning fruits and vegetables. Finally, we have been blessed with the development of new livestock enterprise that produces organic grass fed beef processed humanely.
Elsewhere it usually takes a large luxury result to assemble the land, skills and enterprises required to integrate local production into a lodging offering. Our destination is comprised mostly of small Inns and bed and breakfasts. Through networking and "buy local" efforts we are demonstrating that high quality and healthy alternatives can be a vital part of your diet – even on vacation.